We have a select number of Dorper sheep from a diverse genetic pool. We continually combine and re-combine these genetics in search of the optimum combination for type and production. Our ewes range from 3/4 to full blood Dorpers. All of our breeding rams are full blood with select purebred rams periodically available for sale.
We invite you to browse our website and learn more about our breeding stock and animals we have for sale.
Why Dorpers?
For Sale
Rams
Ewes
Links
Three 87% Dorper Ewes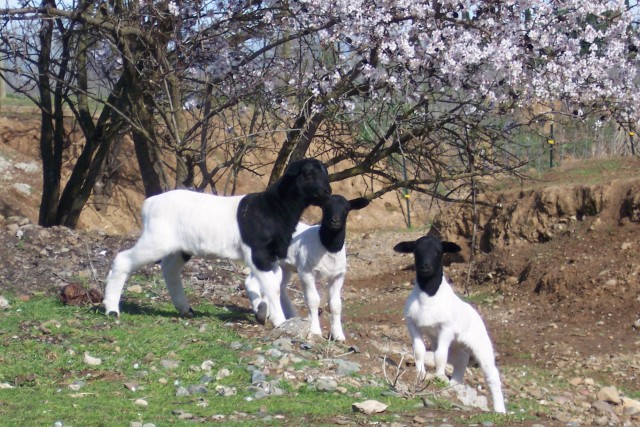 Ewes with purebred lambs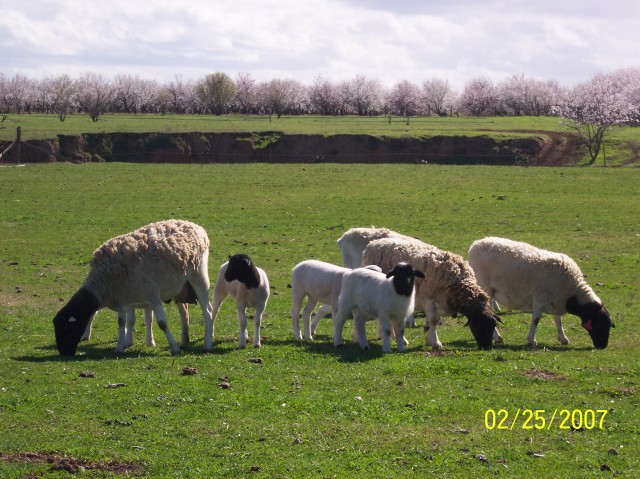 Fullblood Ewe O-5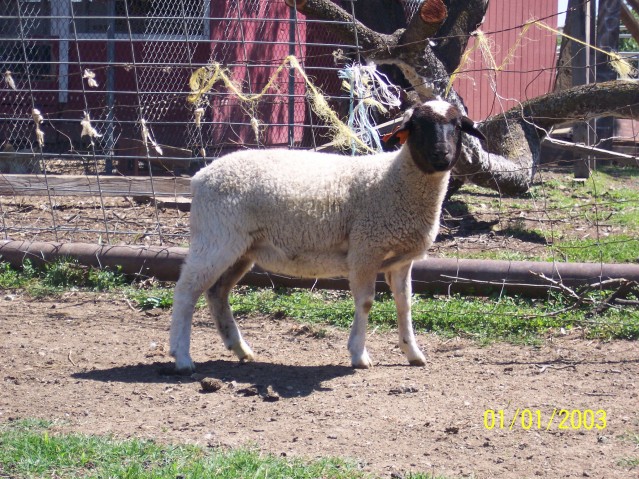 ---
Hardy and Adaptable
Dorper Sheep are highly adaptable and do well in harsh, extensive conditions as well as in more intensive operations.
Excellent Maternal Qualities
Ewes are excellent mothers and heavy milkers. Ewes lamb with ease and lambs are vigorous with high survivability.
Non-Seasonal Breeding
Dorpers are non-seasonal or have an extended breeding season. They can easily be managed to produce three lamb crops in two years.
Reproductive Efficiency
Dorpers are very fertile and prolific. Lambing rates of 180% can be achieved per lambing. They are early maturing and ewes will produce a lamb crop at one year of age.
Pre-potency
Dorper sheep cross well with commercial ewes of other breeds and as terminal sires produce fast growing, muscular lambs.
Non-Selective Grazers
Dorpers are excellent converters of a wide range of forage types and they excel in grazing or weed control operations.
Heat and Insect Tolerant
Because of their Blackhead Persian origin, Dorpers have natural tolerance to high temperatures and heavy insect populations. They are productive in areas where other breeds barely survive.
Parasite Tolerant
Studies indicate Dorper Sheep are better able to deal with a parasite burden than many other breeds. While management of parasites may still be necessary, targeted drenching practices yield good results.
---
Dorper rams for sale: (updated 3/17/2012)
| | | |
| --- | --- | --- |
| Full blood ram | DOB 10/2/11 | $500 |
| 93% ram | DOB 7/6/11 | $200 |
---
Our Foundation Ram – Chunky (WLRD 189)
DOB: October 18, 1999
Sire: KR 1
Dam: KR 37
Chunky is our foundation ram and is now 10 years old (but still going strong).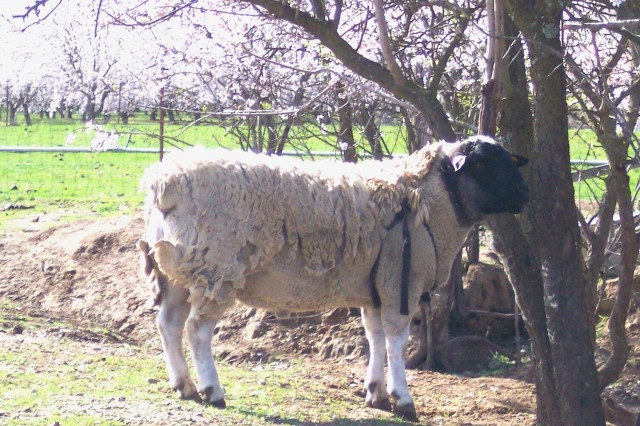 Rambo (Royal Exchange Ranch 111)
DOB: January 4, 2005
Sire: Ram H 541
Dam: Ram H 8K
CJ (Checkered Past G-10)
DOB: December 12, 2007
Sire: WLRD 189
Dam: Schmitz 0021
RJ (Checkered Past G-11)
DOB: January 4, 2005
Sire: Royal Exchange 111
Dam: Schmitz 0023
---
Our Foundation Ewes
Schmitz 0021
DOB: March 3, 2005
Sire: Lazy J Ranch 13 pur
Dam: Swagerty 3-04
Schmitz 0023
DOB: January 15, 2007
Sire: Lazy J Ranch 13 pur
Dam: Swagerty 3-05
Our First Fullblood Ewe – Checkered Past O-1
DOB: January 15, 2007
Sire: Royal Exchange 111
Dam: Schmitz 0021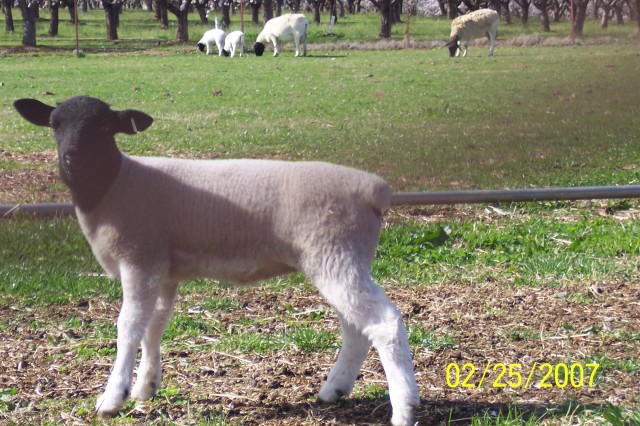 Our Newest Ewes
Checkered Past O-5, O-6, O-7
DOB: November 27, 2007
Sire: WLRD 189
Dam: Schmitz 0023
Checkered Past O-4
DOB: December 14, 2007
Sire: WLRD 189
Dam: Checkered Past O-1
---
American Dorper Sheep Breeders Association
---